Help PFS sustain its sliding scale tuition program!
Please be part of making democratic education accessible to any Philadelphia area child by making a donation at one of these levels.

$20.11 2011 was the year PFS opened its doors!
$50 Sudbury Valley School turns 50 in 2018
$101 101 people attended our recent Back to School Night
$252 252 views of our student-made film. Look here!
$512 512 people have come to Open Houses since 2016
$1000+ The number of PFS Facebook followers
$2018 The year we are going to reach our fundraising goals thanks to supporters like you!
Other A gift at any level helps kids access democratic education.
Make a donation through PayPal
Please consider becoming an ongoing donor to Philly Free School by selecting the "Make this a Monthly Donation" checkbox when entering the amount you wish to donate. Ongoing donations help maintain a steady stream of funds that support our efforts to make PFS accessible to people of all backgrounds.
Ask your employer to match your donation through the United Way Donor Choice Program. Our code is 50581.

Donate something on our Wish List!
Support us while you shop
Amazon allows you to select us as a donation recipient in their Smile program. Every time you make a purchase from smile.amazon.com, a portion of your purchase will go to us!
Schoola will send you a pre-stamped bag in which to donate gently used clothes, which they'll sell and donate back a portion to our school.
Cafe Press for all your PFS gear--mugs, hoodies, water bottles, etc.
Local supporters
Philly Foodworks makes a donation to us when you sign up for their CSA and enter code "PFS".
Volunteer
Volunteers have provided hundreds of hours of service to PFS. Attend an Open House to learn more about us and introduce yourself, then contact us to discuss how you can be part of the school.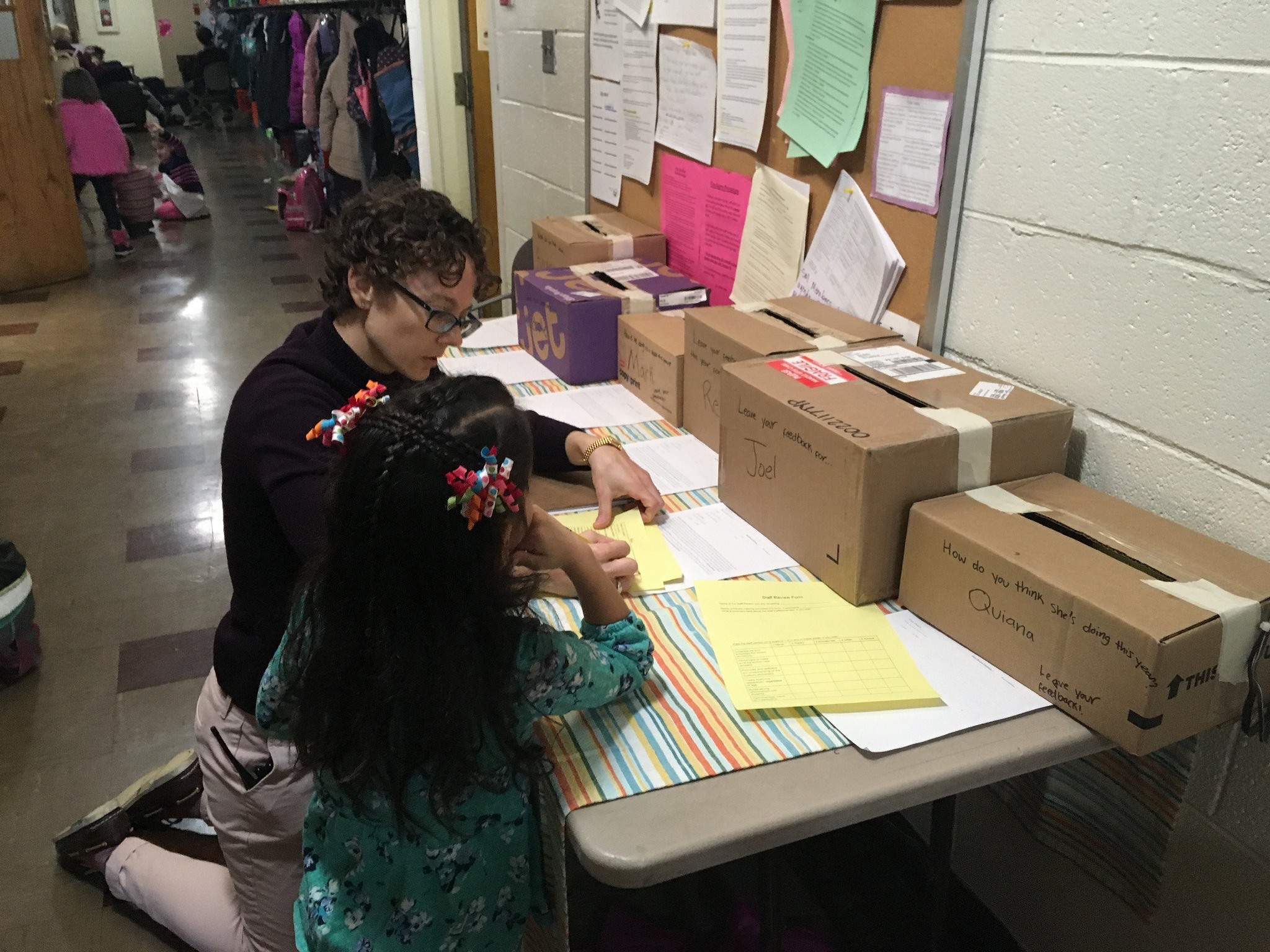 Adult volunteer helping a student participate in the staff review process
Spread the word
Follow us on Facebook, Instagram, Twitter and Pinterest. Subscribe to our newsletter.
Interested in collaboration between PFS and your business? Please reach out!
We are so appreciative of all the ways our school is supported by the wider community!