As COVID-19 continues to tear through our nation, our communities, and our economy, I find myself more grateful than ever that my young learner attends a self-directed school. Philadelphia Free School (PFS) closed, like all other schools in Philadelphia, in mid-March, and we are now navigating how to reopen during these uncertain times. I read all the headlines about schools rolling back their reopening plans as cases continue to surge. I read the opinions about the desperate need to reopen schools due to the physical and emotional needs met there. I read about how devastating this shutdown has been for our most vulnerable young citizens. And these headlines all remind me of the stark reality we are living in, where schools are so much more than places where children are supposed to go to learn how to read and write, and master assigned subject matter.
This virus has pulled back the curtain on many things in our society. It has also revealed a great deal about schools. To quote pediatrician Dr. Sara Bode from a recent NPR interview, "What we know is that for kids, school is not just an optional activity. It's really an essential service for them not only for their academics, but also for their social-emotional health, also for safety, nutrition, so many other things that they get through the school system. And so it's critical for us to find a way to support and get kids back." I'm not sure if I've ever heard it phrased quite so bluntly, and it makes me wonder why we spend so much time pretending the space is purely an academic one.
A recent article in The Atlantic dives into outdoor schools, which captured my attention because it is the route PFS is taking. But unlike most schools, PFS has the structure in place to do this. The school, and self-directed educational models, in general, already have an outdoor option built in from the start, with students taking advantage of exercising that option when it suits them to do so. The only difference is that this year, it will be a little more structured, within the confines of social distancing and health requirements, and indoor time will be more restricted, following new health measures. And while these changes are still stressful due to the circumstances, they allow me to feel good about sending my ten-year-old back in September, after six months of social isolation. And I'm grateful to The Atlantic article for sentences like this one to hold onto: "Outdoor time has always been healthy for kids, but that's especially the case now: One study found that the odds of catching the coronavirus are nearly 20 times higher indoors than outdoors."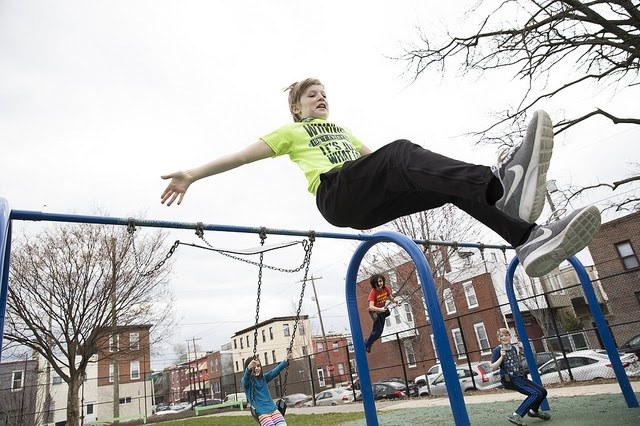 But for traditional schools and school districts in general, a whole host of problems arise, even though we seemingly have a solution readily available through outdoor options. That problem is twofold: one, additional funding is required for staffing, equipment, and new requirements; and two, it exposes the limitations of curriculum further. It says a lot to me that even under these extreme circumstances, imagination so often fails us as a society when it comes to rethinking "education." Why not welcome the opportunity to increase children's health and autonomy through outdoor play, when such an overwhelming number of experts are encouraging us to do so? Has there ever been a better time - or a greater need - for self-directed education?
But the case for democratic free schools like PFS didn't begin with the coronavirus. Trends in business and education continue to show that self-directed models are more beneficial than traditional hierarchical ones. While self-directed education itself is not new, it is frequently "rediscovered" by organizations that recognize vast benefits from it. A recent Forbes article describes the movement and how an MIT graduate discovered it for his son. Articles for teachers give suggestions on how to apply the model in their classrooms to encourage critical thought. Blogs are devoted to corporate training on how to implement it in the workplace to produce more enthusiastic employees. The research is clear, and so are shifting trends. Self-directed education produces happier, healthier, and more enthusiastic learners of all ages. PFS is at the cutting edge of this trend, doing groundbreaking work in revolutionizing education, moving away from static systems, towards dynamic learning and social justice through direct democracy and empowerment. This is an opportunity for all of us to support this work by joining the school's enthusiastic and committed donors. This is an opportunity to support something alive and vital at a time when the need could not be more clear. As a society, we need a healthy, educated electorate ready to engage in community building and a democratic system. We need educational structures that can adapt to rapidly changing environments. This is what PFS does every single day, with students from four to nineteen years old. Their self-directed approach means they do not have curriculum-based testing metrics, and instead measure success by the health of the school community. These measures are diversity, accessibility, and the thriving of minority, queer, and non-binary voices who struggled in conventional settings, where barriers to entry range from basic economic access to deep, ingrained cultural bias. PFS is committed to breaking down every one of these barriers.
The Philadelphia Free School has been in operation since 2011. During that time, the school has never turned a family away due to an inability to pay. The aggressive sliding scale, which ranges from $13,900 down to $1,800, along with generous donations and grants, has allowed the school to become one of, if not the, most diverse democratic free schools in the world. Currently, people of color make up 54% of the student body. And the socioeconomic diversity breaks down as follows:
Families paying $0-$3k -- 61%
Families paying $3k-$7k -- 18%
Families paying $7k-$13.9k -- 21%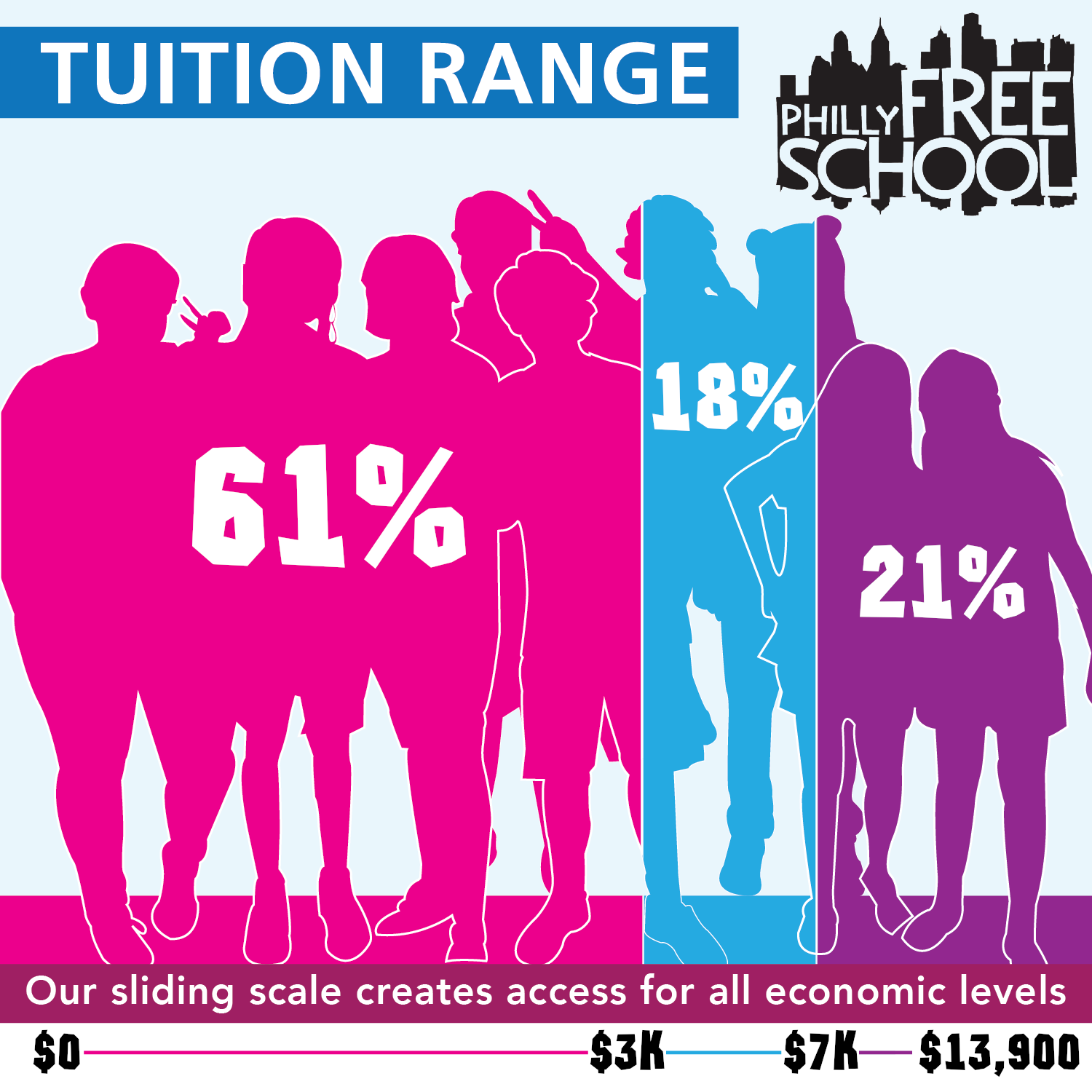 The school's mission is to maintain a space for students ages 4-19 to explore freely, think critically, and work collaboratively, across ages, to govern themselves and their school. Through self-initiated activities, students learn the delicate balance between individual freedom and community responsibility. Along the way, they develop the internal resources to navigate, assess, and utilize the information and tools needed to thrive in modern society. This year, they will learn to balance the needs of their community's health alongside the threat of a virus.
Conventional schools have not changed in a long time, and their struggle to adapt to the rapidly changing needs of the times is clear. They focus on content rather than skills. PFS recognizes that content is available everywhere. Instead of introducing content that is prescribed as important, it offers time and space for young people to figure out what is important to them. This freedom is balanced with the responsibility of running the school. Students and staff are members of the School Meeting, which is responsible for the day-to-day running of the school. They create and enforce rules, hire and fire staff, figure out how to spend the school's money, and work together on a safe reopening plan. This meeting is run using parliamentary procedure and makes accommodations to ensure that everyone can participate. In this environment, students learn skills like problem-solving, conflict resolution, time management, mastery, and maybe most importantly, advocacy.
Perhaps my favorite part of the school is that it is run as a democracy, and the students make up the majority of the voters, so they have real power. They have a judicial system, so students learn justice firsthand. PFS has served over 180 students since opening in 2011. Many of them are now out in the wider community, contributing their experience, values, and passion.
The upcoming school year finds the school in a brand new building that they designed themselves. The new building will allow the school to provide the program to more students than they could in the past. There is a big push to continue the tradition of no family ever being turned away due to an inability to pay. Still, they need support to make this model of education available to anyone who wants it.
This year's students finished the spring 2020 semester remotely to keep our community safe from COVID-19. (The graduating class - the largest to date! - went through the diploma process virtually.) In addition to the cost of the new building, the school is deeply committed to supporting students and families facing unexpected economic hardship. It continues its ongoing commitment to accessibility for all families who want a democratic, self-directed education for their young person. Every single dollar in the Capital Campaign always goes toward the school's most pressing needs, and there has never been a more critical time to give.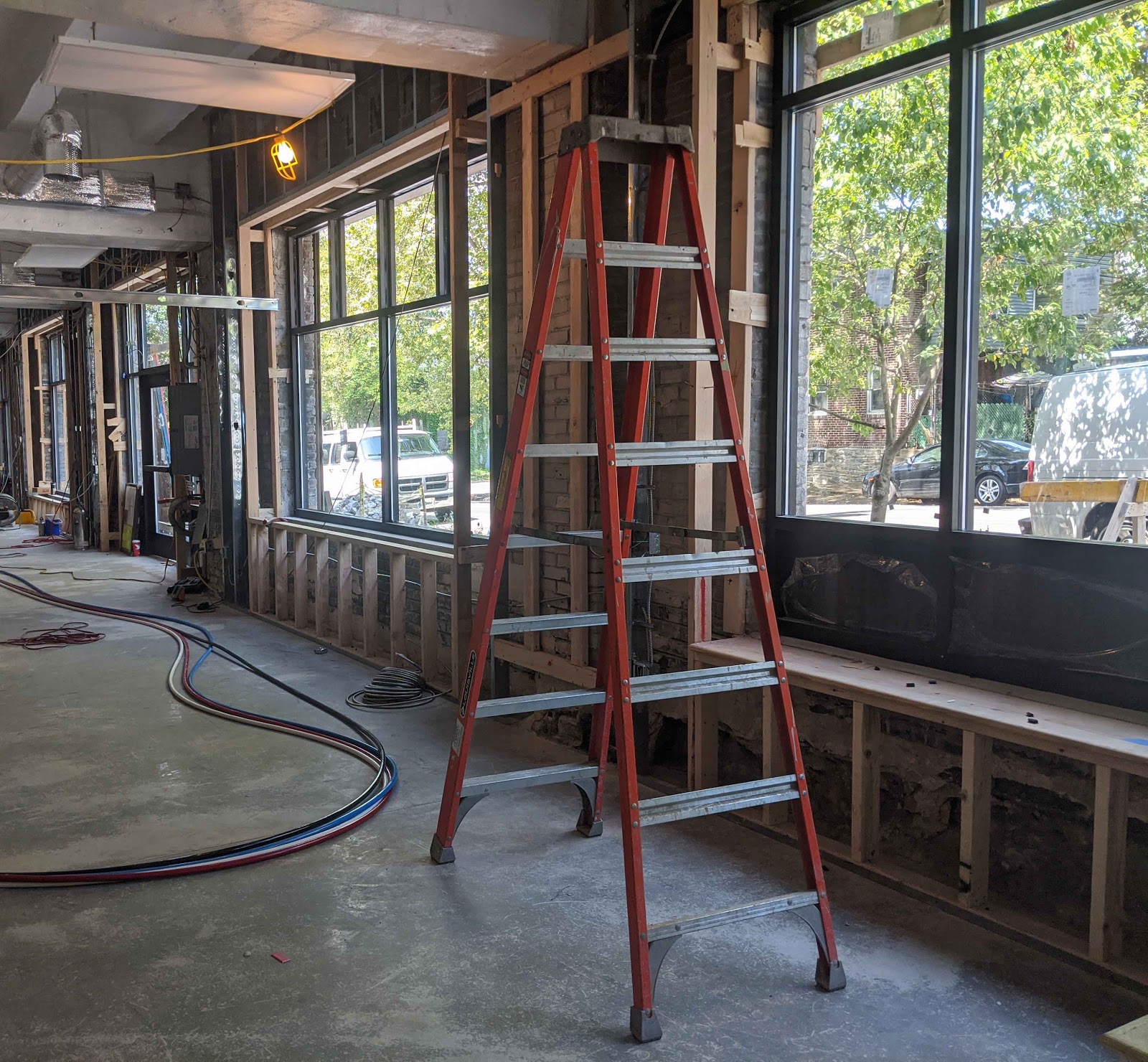 Will you give now to ensure a strong foundation for the future?
No matter the size, your contribution to the Capital Campaign helps the school adapt to the needs of future generations of lifelong self-directed learners, responding to complex issues in the real world. If, like me, you are a doer who values democracy, freedom, and a commitment to the future, that is what the Capital Campaign helps the school accomplish. Will you join me and the broader PFS community in annual giving this year?